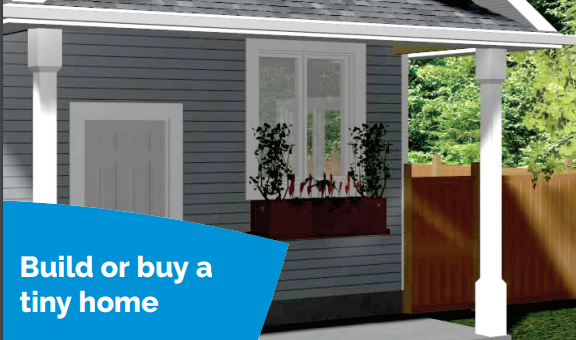 This month, the Ministry of Municipal Affairs and Housing released a PDF guide to building or buying a tiny house in Ontario. As we mentioned in our post on the topic, many of the most onerous restrictions limiting the use of tiny homes in the province lay with the municipalities. However, there is still some useful information presented in this document.
This guide focuses on adding a tiny home to your existing property. This choice is interesting in our current political climate, because it seems to put the emphasis on generating income for a homeowner/land owner, versus providing lower cost / lower impact housing choices.
An interesting piece of information included is the following:
The Ontario government is currently considering changing the rules so that these charges would not apply if you are adding a tiny home and you already have an existing house on your property. You should ask your local municipality about the status of these rules.

Ministry of Municipal Affairs and Housing, Building or Buying a Tiny Home, pg. 22
Again, something to benefit those who already own the land but not those who would like to build on a vacant lot. I'm not arguing against intensification, but I do think there is a risk of the power imbalance between the land owner and the tiny house tenant (or owner of a small piece of a severed lot).
As for tiny home friendly municipalities, the document lists:
Township of Leeds and the Thousands Islands – removed minimum floor area size for all dwellings (OBC still applies!)
Township of Edwardsburgh-Cardinal – plans to permit tiny homes as a dwelling
Oshawa – Allows tiny homes as single detached dwellings, but requires, for example two parking spots for each single detached dwelling.
A tiny home might not be for us, but we will certainly be watching the developments as more and more municipalities begin to allow them.