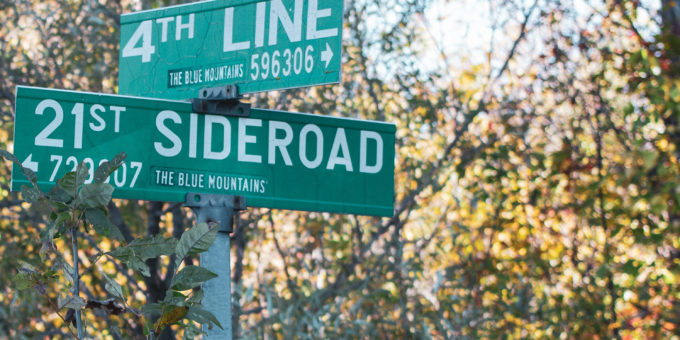 There are a few regulatory layers to building a new dwelling in Ontario, the first of which is the Ontario Building Code. The Ontario building code provides rules for construction, renovation and change of use of buildings and smaller septic systems. The code allows a very small minimum size for dwellings, however local municipalities control the issuance of building permits and can impose more stringent standards. Structures like tiny houses are not welcome in many areas of the province due to minimum size requirements found in municipal bylaws. Some municipalities are working towards allowing them as secondary dwellings on a property (e.g. laneway houses) to address housing shortages and affordability, but not as the principle dwelling on a property.
In our personal journey we are probably more likely to buy a property with a dwelling already on it to avoid getting too entangled in bylaws and zoning with the municipality, and to avoid the environmental impact of new construction. We are still interested in watching how tiny homes may gain more acceptance in Ontario in response to mainstream concern about climate change and footprint and hope to keep track of this progress on the blog.
For now, let's talk about the first layer of legislation, the Ontario Building Code (OBC), and how it defines the minimum size of a house.
Definitions
Legislation depends on definitions, so let's dive into some of the more relevant ones to the discussion of minimum house sizes:
Let's look at how they define a house:
House means a detached house, semi-detached house or row house containing not more than two dwelling units.
What's a dwelling unit?
Dwelling unit means a suite operated as a housekeeping unit, used or intended to be used by one or more persons and usually containing cooking, eating, living, sleeping and sanitary facilities.
And a suite?
Suite means a single room or series of rooms of complementary use, operated under a single tenancy, and includes,

(a) dwelling units,

(b) individual guest rooms in motels, hotels, boarding houses, rooming houses and dormitories, and

(c) individual stores and individual or complementary rooms for business and personal services occupancies.
So not all suites are dwelling units, but the requirements for suites do also apply to dwelling units.
If we wanted to look at the minimum requirements for a house, we'd consider a house with one dwelling unit and base the requirements on that.
The Minimum Size for a Dwelling
Section 9 of the OBC outlines requirements specific to housing and small buildings. The section that speaks to minimum sizes is Reg 332/12 s9.5.
There are specific limits to combinations of rooms (if you combine a dining room and a kitchen, for example), but the absolute minimum is 13.5 m2, for a studio style layout, with only the bathroom as a separate space, and for a maximum of two people. The bathroom requirement is separate and additional to this. No specific area is required but it must have a door and provide enough room for a water closet, lavatory and a bathtub or shower.
The table below summarizes the specific requirements:
Room
Minimum Requirements
Reference
Living Room
13.5 m2 Stand alone, either with separate rooms or in combination with other spaces

11 m2 alone when combined with a kitchen and dining area, and for not more than 2 people
Reg 332/12 s9.5.4.1
Dining Room
3.25 m2 when combined with other space

7m2 when not combined with other spaces
Reg 332/12 s9.5.5.1
Kitchen Area
4.2 m2 if there are more than two people

3.7 m2 if there are only two people

Both of these include the area of any base cabinets
Reg 332/12 s9.5.6.1
Bedrooms
4.2 m2 if they are combined with other living spaces.

(There are more complex requirements depending on how many bedrooms there are, but this is the very minimum)
Reg 332/12 s9.5.7
Combined Living, Dining, Bedroom and Kitchen Spaces
13.5 m2
Reg 332/12 s9.5.8.1
Important to note is that built in bedroom cabinets and closets do not count towards the floor area unless otherwise indicated [Reg 332/12 s9.5.1.3]. Further, there is a provision to allow someone to go smaller, but you have to show the spaces are adequate for their intended use [Reg 332/12 s9.5.1.5].
Minimum Ceiling Heights
There also minimum requirements for ceiling heights, which might impact a small house design if a loft was envisioned. These heights are given in table 9.5.3.1 in the regulation, but in general 2 300 mm is required in at least some of the area considered living, dining, kitchen and bedrooms. The bathroom can be 2 100 mm where someone would be in a standing position.
Other requirements
There are other important requirements in the OBC such as the requirements for windows and access for the fire department. We aren't going to attempt to get into them all here, however we plan on writing more posts about the OBC and bylaws as we begin to plan our future home in more detail and do the necessary research.
Are there any areas of the OBC that you've come up against that made it impossible to use a sustainable solution you were excited to try? Let us know in the comments below!