It's been a long while since we posted.
It seems almost inappropriate to be taking up space on the internet during and ongoing pandemic and when such important, difficult, overdue work is going on in the Black Lives Matter movement.
On the other hand, the intent of this website it to keep a record of our work and experiments, and hopefully create a useful resource for others. We hope that we are able to do this without taking away from those other more urgent issues and can share our small joys with you.

The garden balcony had been going well. We had some heart break, but overall we are learning and even having some success.
Challenges
We planted our seeds way too early. We started the zucchini, catnip, Hera Bunching dill, Buttercrunch lettuce, Habanero peppers and BushSteak hybrid tomatoes on March 1st 2020.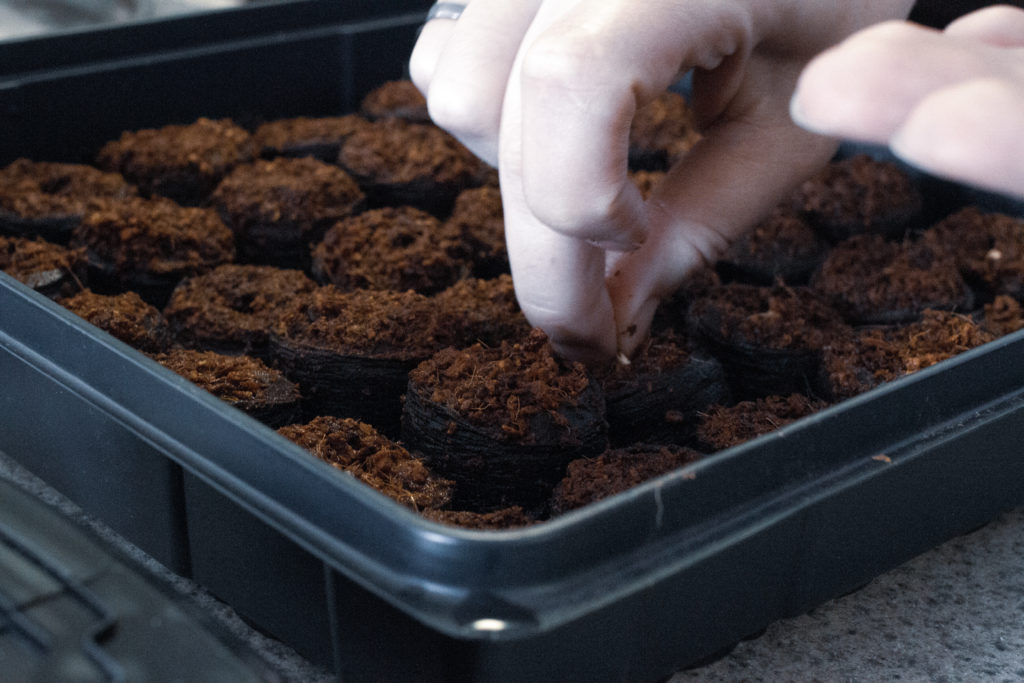 We started these in the starter pods pictured above. By the time we thought frost was over, we had already replanted everything into at least solo cups, but we had the zucchini and tomatoes in larger, final planters.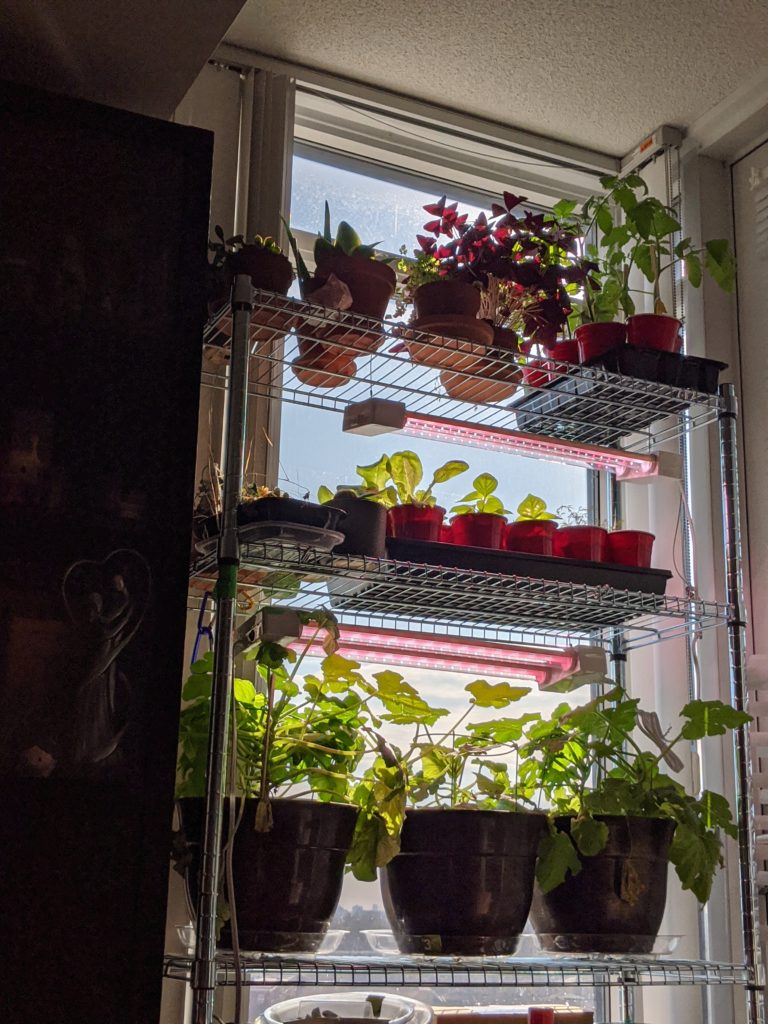 The tomatoes and zucchini had to live a few days in our bathroom. The plants moved full time outside on May 16th 2020, 12 days after the supposed last frost date.
We ended up loosing all of the zucchini – 2 of the planters died after failing to thrive in our bathroom, and the final one was too badly damaged in a wind storm. We lost a few tomatoes as well, but have 4 plants remaining.
The wind on our balcony is really strong. Plants are being knocked over, and leaves damaged. We are also seeing plants fail to thrive because their containers are too small.
In a second round of planting we did plant some French Breakfast radishes and some Pole beans, but neither did well. The Pole beans failed to sprout, and the radishes failed to mature – likely because of space constraints.
The photo below was taken May 7th and you can see the radishes in the green planter to the left – clearly over crowded. Even after thinning them out significantly, the ones that remained failed to mature. We got one radish.
Successes
While the zucchini was still alive, we think we hand fertilized it. Sadly we never got to find out. This large vine isn't well suited for our balcony.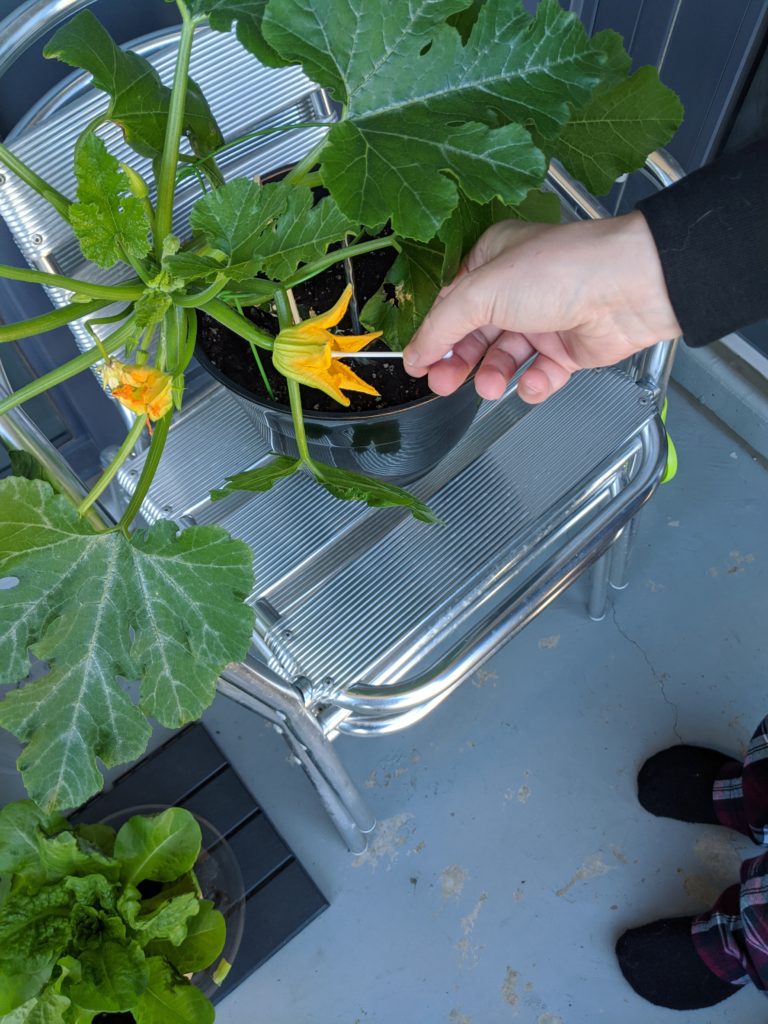 We successfully harvested one head of Buttercrunch lettuce, as well as dill and catnip. The lettuce was delicious, but we didn't start enough heads or think about a staggered progressions which would allow us to eat lettuce on a rolling basis going forward.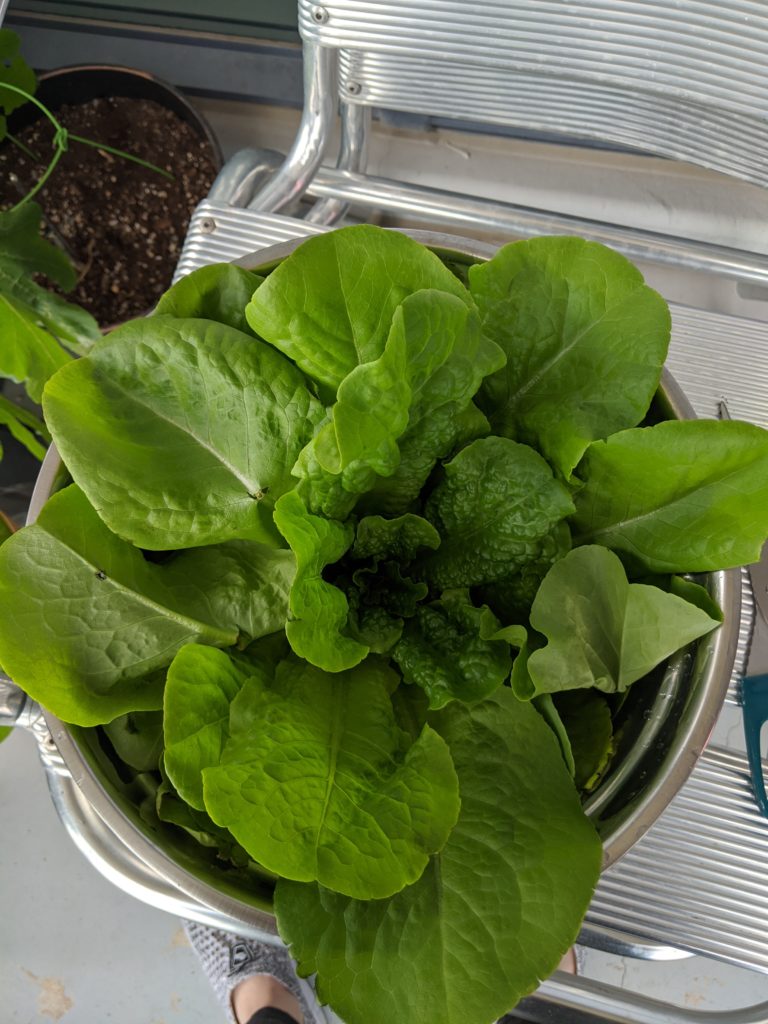 We also have our BushSteak tomatoes coming along well. We hope that they will ripen in the next little while and we can make some salsa.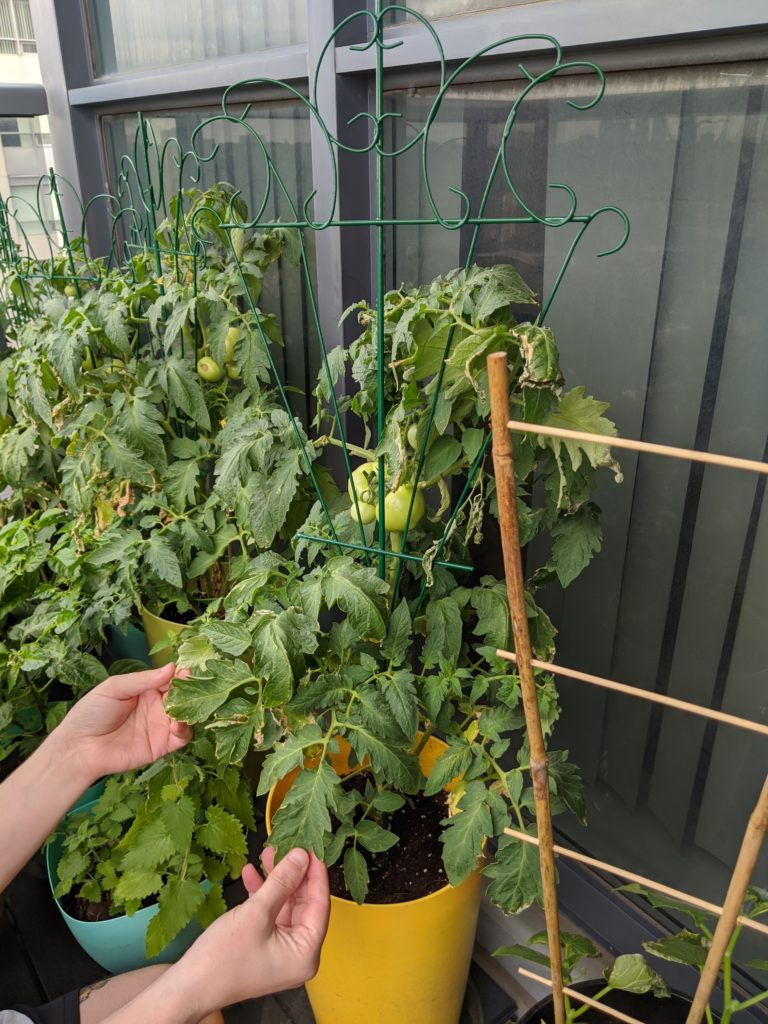 Ongoing
We made a second planting of French Breakfast radishes (failed), Pole beans (failed), Roma tomatoes, container appropriate cucumbers and sweet peas. These plants seem to be doing well, despite some scares with the wind.
Our pepper plants are lush and have some flowers. We hope some have set fruit, but I think we will need to wait a little longer to find out.
Tendrils are a delight. Plants are so smart – how do they figure this out? How to the know where to grab and hold on tight?
We water them 2-3 times per day, checking up on them often. One of us is working from home right now due to COVID, which has been a blessing in terms of checking up on our babies.
We hope to be able to share more harvest photos with you soon. Take care.